The DoveSong MP3 Library
is no longer in Service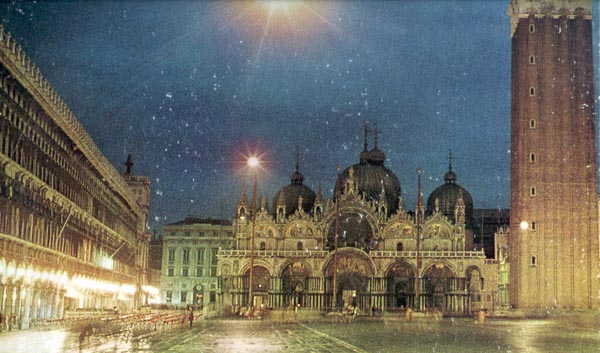 San Marco Cathedral in Venice, where Gabrieli played his music
The Music of Giovanni Gabrieli
Gabrieli was an organist at the San Marco Cathedral in Venice and preceeded Monteverdi's tenure there. The following four selections are from a set of three albums that were recorded by Columbia Records in Gabrielli's own San Marco Cathedral in Venice in the 1960s and featured The Gregg Smith Singers, the Texas Boys Choir, the Edward Tarr Brass Ensemble, E. Power Biggs and Vittorio Negri, conductor. These recordings were a tremedous revelation of the music of this fine composer as they fully reveal the glory of his music. The albums were called The Glory of Gabrielli, The Glory of Venice, and The Glory of Gabrieli, Volume III. These albums are long out of print, but Sony has re-released some, if not all, of the material from these albums in CD format.
Kyrie This glorious Kyrie is from a mass for three choirs from which only the Kyrie and the Sanctus (with its accompanying Benedictus) remain.

Gloria A beautiful realization of the Gloria from another set of extant movements, this one for two choirs.

Plaudite, Psalite A powerful uplifting in praise and worship is this great composition for three choirs.

O Magnum Mysterium Gabrieli's setting of the Christmas text O Magnum Mysterium (O Wonderful Mystery) concludes with a resounding singing of alleluia!
Instrumental Works
Canzona quarti toni a 15 From the Sacrae Symphoniae of 1597. Instrumental Ensemble of the Gabrieli Festival. Edmund Appia, conductor. 1950s.

Discover More About Gabrieli
-> Read About Gabrieli in the DoveSong Text Library
Return to "DoveSong MP3 Library: The Baroque Era"