The DoveSong MP3 Library
is no longer in Service

North Indian Classical Music
Raga Komel Re Asawari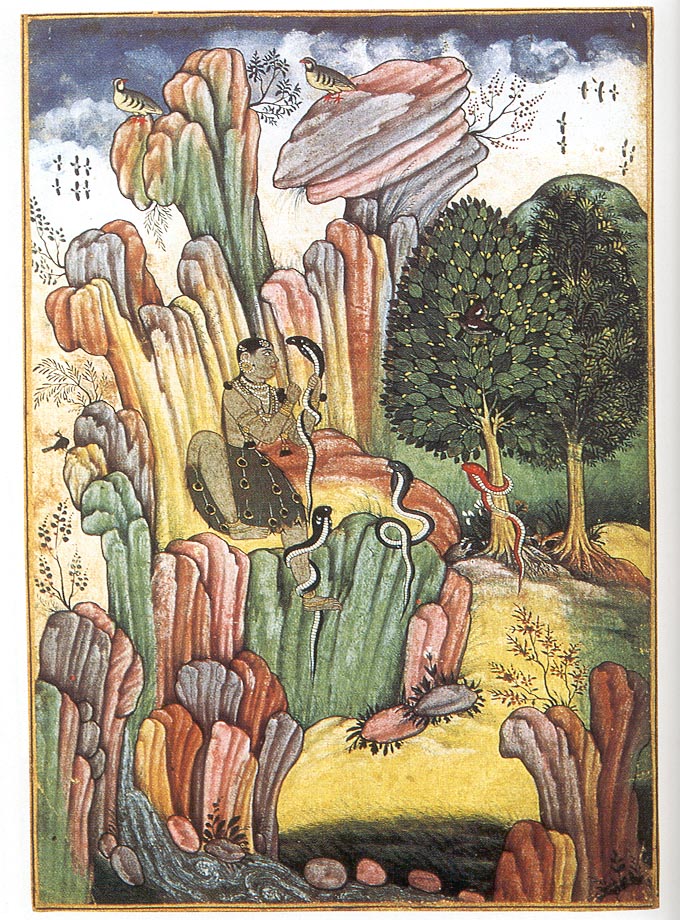 Raga Asawari: 17th Century ragamala painting
On the summit of the sandalwood mount
robed in the peacock's plumes
and with a splendid necklace
strung with pearls and ivory,
the variegated one draws the serpent
to herself from the sandalwood tree.
This proud one wears it as a bracelet,
her body ablaze with dark splendor.
Scale Up: C, Db, F, G, Ab, C
Scale Down: C, Bb, Ab, G, F, Eb, Db, C
Main Note is: Ab
Always played in the morning
Rajeev Taranath Demonstration of Raga Komel Re Asawari
The Dagar Brothers Moinuddin and Aminuddin Dagar singing in Dhurpad Style. Raja Chhatrapati Singh, pakhawaj. 1950s.
Nikhil Banerjee (sitar) Tabla accompaniment by Kanai Dutt. Gat is in tintal (16 beats)

Pandit Pran Nath Vocal. From a very rare 'red' 10" LP distributed privately in New York in 1968.
Bade Ghulam Ali Khan Vocal. Recorded March 31st, 1963.
Gangubai Hangal Vocal. One of the greatest of Indian singers. This is how ragas are sung.
Amir Khan Keyal (vocal) in jhumra tala (14 beats) and tintal (16 beats)