The DoveSong MP3 Library
is no longer in Service

North Indian Classical Music
Raga Bhairav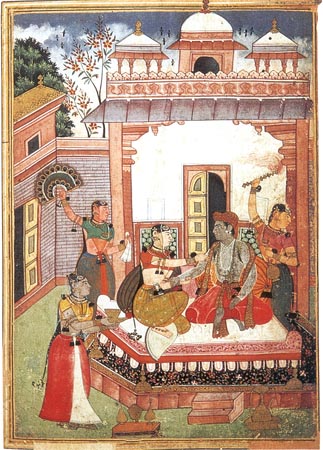 Raga Bhairav: 17th Century ragamala painting

Scale: C, Db, E, F, G, Ab, B, C
Main Note is: Ab (with Andolin)
Always played at sunrise
Raga Mood This orchestral version by V. Balsara from the difficult-to-find 1960's album Raga Mood serves as a great introduction to the raga.
Gangubai Hangal This is a vocal rendering by one of the great female singers of India. Gangubai Hangal sings in the deep-feeling and spiritual older tradition of Indian music. It is important to listen to her recordings because a great deal of the roots and importance of contemporary North Indian Indian Classical Music is lost in showy and shallow performances by many modern artists.
Nassar Aminuddin Dagar This is a very rare recording of a great singer from the famous Dagar family of singers and musicians who continue to perform in the powerful and spiritual ancient dhrupad style. This perfomance shows the stateless and purpose of this amazing raga, built on a scale unknown to most western listeners.
Nat Bairav - Ali Akbar Khan A variation on raga Bairav "Nat" Bairav uses a natural "D" instead of a flat "D".