The DoveSong MP3 Library
is no longer in Service

North Indian Classical Music
Raga Bilaval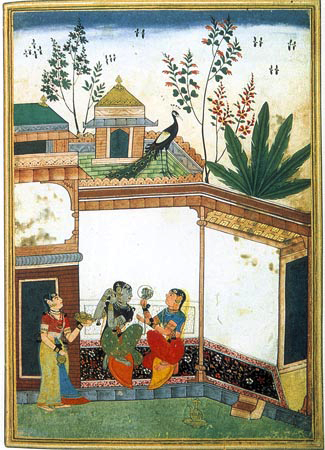 Raga Bilawal: 17th Century ragamala painting
Bilaval has the lustre
of the blue lotus.
Aranging jewels upon her body,
she makes secret sighns to her lover.
How can she forget for one moment,
her chosen diety,
the God of Love?
Sangita Darpana
Scale: C, D, E, G, A, C
Scale: C, A, G, E, D, E, F, E, D, C
Main Note: A
Always played during the later part of the morning
Raga Mood This orchestral version by V. Balsara from the difficult-to-find 1960's album Raga Mood serves as a great introduction to raga Bilaval. The tala (rythmic pattern played by the tabla drums) in this selection is in 16 beats and is called tintal.
Bismillah Khan Playing the shenai.