The DoveSong MP3 Library
is no longer in Service

North Indian Classical Music
Raga Kafi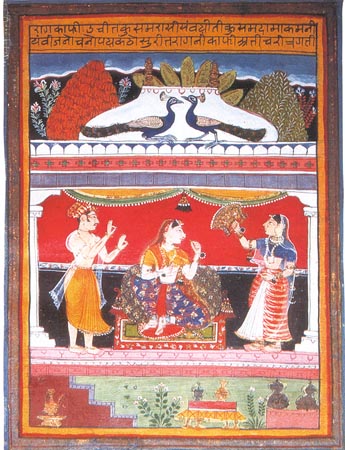 Raga Kafi: 17th Century ragamala painting
Of shining whiteness,
Kafi who inspires lust tenderly
sits on the lap of her playmate in the royal palace,
fond of parrots she is dressed in blue
and decked with jewels.
She is the image of sensuousness.
In the Lotus of my heart
I cherish her,
lovlier than Lakshmi
the goddess of Fortune.
Scale up: C, D, Eb, F, G, A, Bb, C
Scale down: C, Bb, A, G, A, F, Eb, D, C
Main Note: G
Always played during the night
Raga Kafi is about love and passion and is used as a basis for many of the lighter songs sung in the thumri style. A natural 'B' can be sung as an embellishment for the high C. In Dhrupad, the Eb was often omitted in the ascending scale.
Raga Mood This orchestral version by V. Balsara from the difficult-to-find 1960's album Raga Mood serves as a great introduction to raga Yaman. The tala (rythmic pattern played by the tabla drums) in this selection is in xx beats.
Rajeev Taranath This version of Kafi is performed as a ragamala, meaning that elements from other ragas are introduced as a melodic device. Record in Berlin on May 19, 2000 and used by permission. Sanjay Jhalla, tabla.