The DoveSong MP3 Library
is no longer in Service

North Indian Classical Music:
Kanada Ragas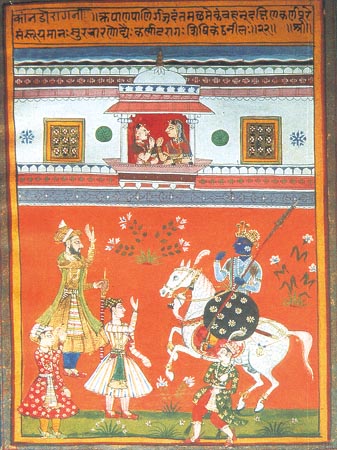 Raga Kanada: 17th Century ragamala painting
With uplifted sword and,
in the other hand,
the tusk of an elephant,
the divine form of Kanada
is lauded by the hosts of heaven.
Raga Darbari Kanada
Scale Up: C, D, Eb, F, G, Ab, Bb, C
Scale Down: C, Ab, Bb, G, (F, G, Bb), Eb, F, D, C
Main Note is: D
Always played in the deep of night
Raga Kanada originated in South India. Darbari (or courtly) Kanada was created by India's greatest musician, Tansen, in the 16th Century, the profound mood and spirit of this great raga is not equaled. Raga Darbari Kanada is assumed by many to be North India's greatest raga. There are a number of ragas in the Kanada family of ragas.

Dagar Brothers This recording of the "elder" Dagar Brothers was made in the 1950s. The Dagar family was one of the few great families to continue playing in the older Dhurpad style after the demise of the great Indian Courts where it previously flourished. Because of its nobility, stateless, and spirituality, Darbari Kanada was traditionally only played in a slow speed. In traditional dhrupad styles, instead of playing a fast composition in Darabari at the end of a performance of the raga, instead Adana, a raga similar in scale structure, was always substituted. Here the Dagars play first an alap, where the raga is unfolded, followed by a composition in Dhamar tala (a stately 14 beat talla associated with the dhrupad style), then a composition in raga adana.
Pandit Ram Chatur Mallick Ram Chatur Mallick was a well-known singer of the older dhrupad style. Recorded in August, 1976 in Patna, India. The tala (rythmic pattern) is Choutal, the 12-beat pattern common in dhrupad. The pakhawaj (drum) is played by Ramashish Pathak.
Ustad Abdul Waheed Khan Jhoomra tal (14 beats). This great singer was a master of the kirana style of singing. Recorded in the 1950s.
Ustad Faiyaz Khan This short 'snippet' sung by the great singer Faiyaz Khan was made to record on one side of a 78 record, and it shows very little of what the raga, that he probably sang in performance for an hour, is really all about. Yet it is a glimpse.

The Ali Brothers sung by the Ali Brothers.
This recording of Darbari Kanada, recorded in the 1960s by the Ali Brothers of Pakistan, clearly displays the rare beauty and spiritual power of this great raga.

Amir Khan Jhoomra Tal (14 beats). Great singer from Indore.

Mohammad Sharif Khan Sitar alap. Ustad Mohammad Sharif Khan. Pakistan. 1960s.
Raga Kausi Kanada
Scale Up: C, Eb, F, Ab, Bb, C
Scale Down: C, Bb, Ab, G, F, Eb, D, C
Main Note is: F
Always played at night
Kausi Kanada is a combination of Malkauns (ascending scale) and Darbari Kanada (descending scale).
Bahadur Khan This fine sarod player came to the U.S. in 1969 and at that time this recording was made with Shankar Ghosh accompanying on the tabla.
Sharan Rani A student of Ustad Ali Akbar Khan, Sharan Rani recorded Kausi Kanada for the World Pacific label in 1962. Accompanying her playing tintal (16 beats) is Chatur Lal, a gifted young tabla player who died not too long after this recording.
Gangubai Hangal This great singer performs Kausi Kanada accompanied by her daughter Krishna Hangal.