The DoveSong MP3 Library
is no longer in Service

North Indian Classical Music
Raga Kedar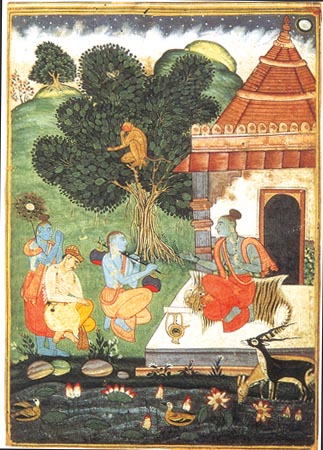 17th century ragamala painting of Raga Kedar
I ever think of Kedar.
A rare book in her hand,
she sits, beautifully dressed,
in front of the temple of Shiva,
Lord of Sleep.
Raga Sagara
Scale Up: C, F, E, G, F# G, A, C
Scale Down: C, B, A, G, F#, G, A, G, F, D, C
Main Note is: F
Always played at night
Raga Kedar is an old raga. During medieval times it was based on a pentatonic scale: C, E, F, A, B. Like many of the ragas, it changed over the centuries by the addition of the embellishing F# (used in the phrase F#, G, A, G, F) and the addition of G and used of D in the descent. Kedar is a very distinctive and beautiful raga.
Jugalbandi (Duet) Bismillah Khan, shenai and Professor V.G. Jog, violin.
Roshan Ara Begum A student of the acclaimed singer Ustad Abdul Karim Khan, Roshan Ara Begum recorded this version of Kedar in the early 1960s. Unfortunately this recording is not the best quality. This rendering consists of a slow Khayal in Ektal (12 beats) followed by a tarana in a fast speed also in Ektal.