The DoveSong MP3 Library
is no longer in Service

North Indian Classical Music
Raga Malkauns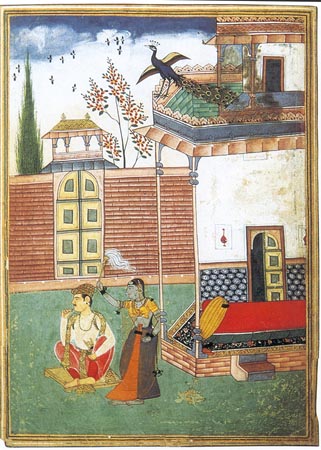 17th century ragamala painting of Raga Malkauns
A scarf around his neck
and fanned by the fair-hipped one,
a golden seat has been made
for the king of the gandharvas.
Handsome and wealthy,
Shri Malav is known
as the fifth Malav.
Provincial Mughal, ca 1610

Scale: C, Eb, F, Ab, Bb, C
Main Note is: F
Played at around midnight
Malkauns, also known as Malkosh or Malav Kaushik, is a majestic pentatonic raga.
Pandit Omkarnath Thakur A great version of this raga sung by one of India's famous vocalists during the 1950s.
Nikhil Banerjee played by Nikhil Banerjee on the sitar with tabla accompanyment by Kanai Dutt. The tala (rythmic pattern) is tintal (16 beats). Recorded in the 1960s.