Charles-Marie Widor (1845-1937)
Widor, born in Lyons, France, was the organist at great Saint-Sulpice cathedral in Paris from 1870 to 1934. In addition to other works, he wrote ten great organ 'symphonies'.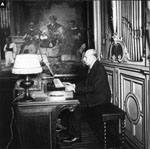 Web Sites
The Dovesong MP3 Library
Selected Compositions on CD
Widor: Symphonies No. 5 and No. 10 "Romane"
Daniel Chorzempa, Organ l'Insigne Basilique Saint-Sernin de Toulouse.
Philips 410 054-2
Widor's last symphony, the "Romane", is very beautiful. The above is a great recording, containing the Romane and the fifth symphony, which contains his most popular piece, the ending "Toccata".
Widor, Messiaen, Dupré and Vierne
EMI Classics 7243 5 55037 2 5
Works performed by Charle-Marie Widor at Saint-Sulpice, Louis Vierne at Notre-Dame, and by Marcel Dupre in London, and Olivier Messiaen's Le Banquet céleste and L'Ascension played at the L'eglise de la Trinité in Paris.